Geiranger is a quaint village located at the end of the incredibly beautiful Geirangerfjord, a branch of the Storfjord. With its sapphire-blue water, spectacular waterfalls, and grand, green mountains, it's no surprise that Geirangerfjord is listed as a UNESCO World Heritage site.
Because of its special beauty and UNESCO status, it is a popular destination for tourists. While the village itself is quite small, there is much to explore in Geiranger. We've put together a list with suggestions on how to spend your time in this magical place.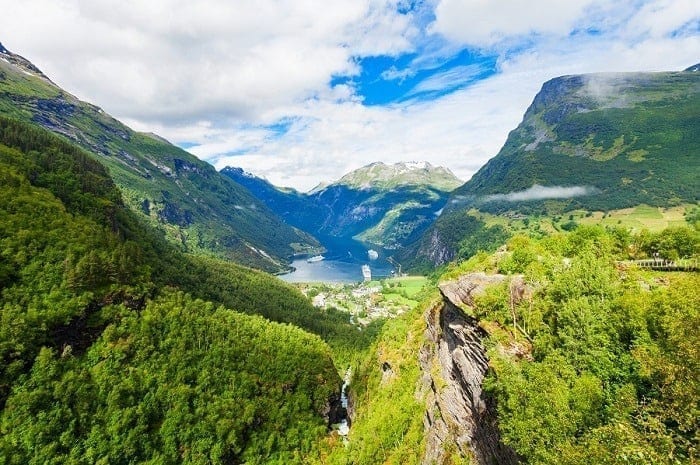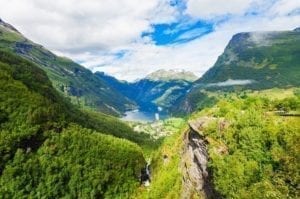 Water Fun
Before roads were put in place, Geiranger was fairly isolated and only accessible by boat. Perhaps the best way to see the Geirangerfjord is by this traditional mode of travel. As you cruise through the deep blue water surrounded by magnificent mountains, you'll get to marvel at the famous waterfalls such as the "Seven Sisters" and view historic seters (mountain farms) perched high on the hilltops.
There are a few different options for seeing Geiranger from the water. 
By cruise ship
If you're traveling the Norwegian fjords by cruise ship, you'll see the sights as you travel up the fjord and come into port at the village of Geiranger. There is also a ferry you can catch in the village of Hellesylt that takes you through Geirangerfjord to Geiranger where you're able to disembark and explore the area. 
By RIB-boats
For perhaps a more intimate view of the landscape there are RIB-boats and kayaks. The mountains are even more impressive (if you can believe that!) from this vantage point. RIB-boat tours offer an adrenaline-filled way to get up close and personal with the Geirangerfjord. These tours will also take you by the many waterfalls and seters in the area and provide opportunities for great photos.
By kayak
If you prefer a more serene way of communing with nature, kayaking Geirangerfjord can't be beat. If you're an experienced kayaker you can venture out alone, but if not, there are also guides for hire. For the active traveler, we recommend incorporating kayaking with hiking up to the seters (mountain farms) via stairs built into the cliffs. We'll touch more on the farms later.
Hiking
Hiking is a popular activity throughout Norway and Geiranger is no exception when it comes to great hiking trails. You will find many hiking trails of varying lengths and degrees of difficulty. Once in town head on over to the tourist information center and pick up a detailed map or book on hiking the area. The area boasts great waterfalls, farms, and views to hike to. One of the most popular routes in the area is the hike to the popular Storsæterfossen waterfall. The trail actually goes behind the waterfall at one point (so cool!) and takes approximately an hour each way. 
Farm Life
For a true taste of Norwegian rural life head on out to one of the historic seters (mountain farms) in the area. Skageflå is the mountain farm where King Harald V and Queen Sonja celebrated their silver wedding anniversary in 1993. To visit Skageflå you'll take a boat (or kayak) from Geiranger to Skagehola, from there it's a steep climb up a trail that is carved into the mountainside. 
The trail, while steep, is secured by handrails and many families do hike this popular trail. Directly across Geirangerfjord from Skageflå is another historic mountain farm called Kinvsflå with a similarly steep hike up the mountain to the farm itself. If these hikes seem too challenging, the Herdal Goat Farm is another great location to visit.  It has been in operation for over 300 years. Here you can see goats, cows, and fjord horses and even get a taste of some locally made goat cheese.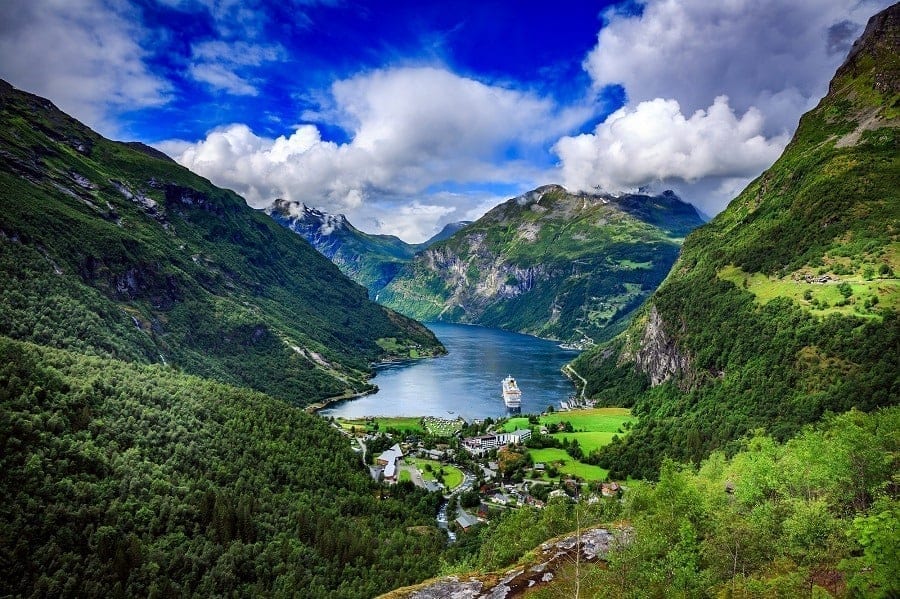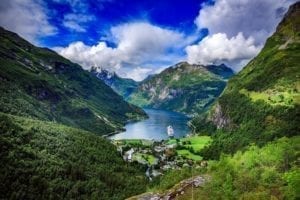 Day excursions
If the above sounds like a lot to pack into the amount of time you'll be visiting Geiranger, have no fear. There are plenty of guided day excursions that offer well-rounded experiences in Geiranger. Combine the hike to Storsæterfossen with a visit to the farm of Westerås. Join a tour that includes all the well-known lookout points over Geirangerfjord including the Geiranger Skywalk, or pair the view from the Eagle Road with a trip to the idyllic Herdal Goat Farm. 
Many of these excursions are designed with cruise ship passengers in mind (although all are welcome) as they offer back in time guarantees. Local companies often offer excursions at a fraction of the cost of ones booked through the cruise ships. 
Norway Excursions Geiranger excursions can be found here.
Village Life
Geiranger village is, as we've mentioned, quite small. What it lacks in size it more than makes up for in its charm and vibrancy in the summer months. Peruse the tourist shops, visit the Geiranger bakery or chocolatier, grab a famous troll ice cream and watch the crowds stroll by along the backdrop of a supremely beautiful landscape.
Geiranger is a special place that offers many different ways to enjoy it – all of them memorable.  
We hope you'll come and see for yourself all that Geiranger has to offer. If you choose to book with Norway Excursions we offer the following tours: