Norway is gearing up for its biggest annual celebration and we thought we'd take you along as our plus-one. Constitution Day is the National Day of Norway celebrated every year on the 17th of May. It is simply referred to as "Syttende Mai" (17th May) and is a colorful celebration of Norway's independence.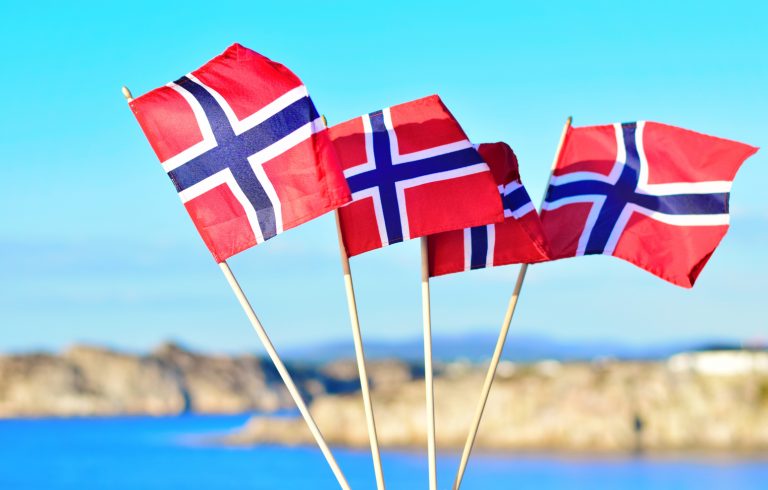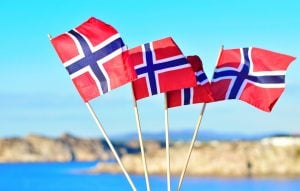 History
The constitution of Norway was signed on the 17th of May in 1814 and declared Norway an independent kingdom in an attempt to avoid being ceded to Sweden after Denmark-Norway's defeat in the Napoleonic Wars. The celebration of this day began early on but for years Sweden and Norway were reluctant to allow the celebrations as Norway was in a union with Sweden at the time.  For a few years in the 1820s it was actually banned as the King believed that celebrations like this were a protest against the union. To defuse tensions after the Battle of the Square in 1829, in which a conflict took place between Norwegian demonstrators and the forces of the United Kingdoms of Sweden and Norway, King Charles XIV John agreed to lift the prohibition on constitutional celebrations on the 17th of May. In 1833 public addresses began to be held and in 1864 the day became even more established and representative of how it's celebrated today, when the first children's parade was launched in Christiania (Oslo). Originally the children's parade only consisted of boys, but in 1899 girls were allowed to join in on the parade. In 1905, the union with Sweden was dissolved and Prince Carl of Denmark was chosen to be King of a newly independent Norway under the name of Haakon VII.
Adding even more meaning to Norway's Constitution Day, the Second World War ended in Norway just days before Syttende Mai on the 8th of May 1945, when occupying German forces surrendered. While Liberation Day is an official flag day here, the day itself is not an official holiday. Instead the meaning and significance has been added to the celebration of the 17th of May, Norwegian Constitution Day.
Celebrate in Style
Syttende Mai is the time to wear your finest clothing and for Norwegians that means traditional clothing known as bunad. The beautiful garments are made of wool and adorned with metal buckles, buttons, and jewelry. While the modern bunad is inspired by traditional folk costumes, it is very much an invention of the 20th century. Designs vary depending on the region of Norway they represent. A bunad is a way to show public appreciation and pride in your Norwegian heritage.  It is also a way to show what town or region you are from as it is customary to wear a bunad from an area to which you have a genetic or residential connection to. If you don't own a bunad then it is customary to wear your finest dress or suit.
Another colorful clothing tradition that you're sure to spot during the day are the bright colored jumpsuits of the "russ". The russ are soon to be high school graduates celebrating the end of 13 years of school. The color of their jumpsuit depends on what they study:
Red: general studies (mathematics, physics, biology, history, literature, English, etc.), media and communication, art, music, dance, drama, and athletics. This is the most common color to see.
Blue: business administration studies (economics and administration)
Black: vocational courses (electronics, carpentry, culinary programs)
Green: agricultural courses
White: in some regions athletics and healthcare studies. Christian russ choosing to celebrate without alcohol may choose to wear this color, but many stick to the same color as their classmates
If you spot any russ during the day be sure to ask them for a russkort which is a "business card" displaying their name, photo, and a short slogan or joke. Children make a game of collecting as many cards as they can.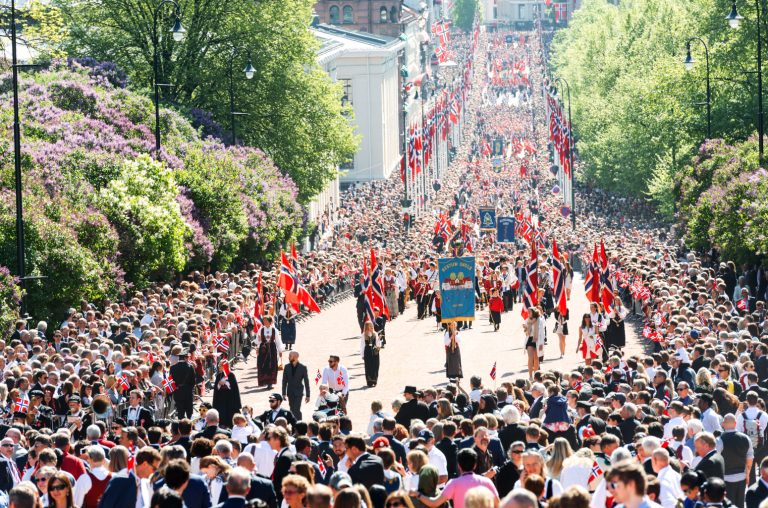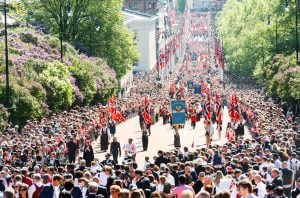 Parade around
A truly integral and special part of the 17th of May celebrations are the children's parades that take place throughout the country. This is a day for everyone, but especially the children. The parades are full of children from local schools many of whom are in marching bands. Music fills the air as these parades march through cities around the nation while proud parents and members of the community watch. The first children's parade was in Oslo in 1870 and is a tradition (pandemic aside) that continues to this day. In Oslo, the Royal Family waves from the balcony of the Royal Palace as the children go by. While the largest parade is in Oslo, there are parades held in every city, town, and village in Norway. In addition to the children, local businesses, sports clubs, and other social organizations get in on the fun and proudly display Norwegian flags and the banners of their respective organizations. The  russ graduates also march along, often looking a bit worse for wear as Syttende Mai (in non-pandemic years) marks the end of a two-week period of partying to celebrate the end of their schooling. This is a rite-of-passage for most Norwegians.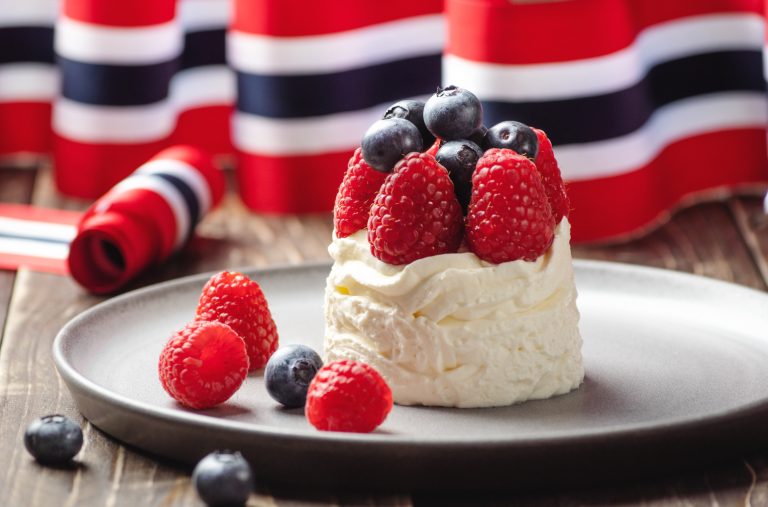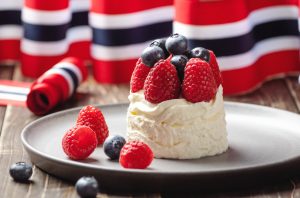 Eat, drink, and eat berries
Let's be real. What is a celebration without good food and drink? Syttende Mai is no exception. The day often starts off with an elaborate brunch consisting of freshly baked breads, eggs, salmon, cakes adorned with patriotic colored berries in red and blue, and champagne for the adults. Families, friends, and neighbors come together to break bread with one another before the parades.  During, or shortly after, the parades copious amounts of  hot dogs and ice cream are consumed. Lots and lots of ice cream!
Hipp hipp hurra!