Lofoten is an archipelago in Northern Norway known for its stunning scenery. With its dramatic mountains and peaks, open sea, sheltered bays, and beautiful beaches, it is a top destination for many travelers and landscape photographers. Its capital and largest town, Leknes, lies approximately 169 km inside the Arctic Circle, making Lofoten one of the world's northernmost populated regions. Even though it lies within the Arctic Circle, Lofoten has one of the world's largest elevated temperature anomalies considering its position on the map. Adding to the rugged beauty are charming fishing villages, numerous hiking and biking trails, surfing spots, and even a Viking museum. No wonder this spot is projected to be the top destination for tourists in Norway this summer! We've put together a guide on things to do while traveling through this spectacular place.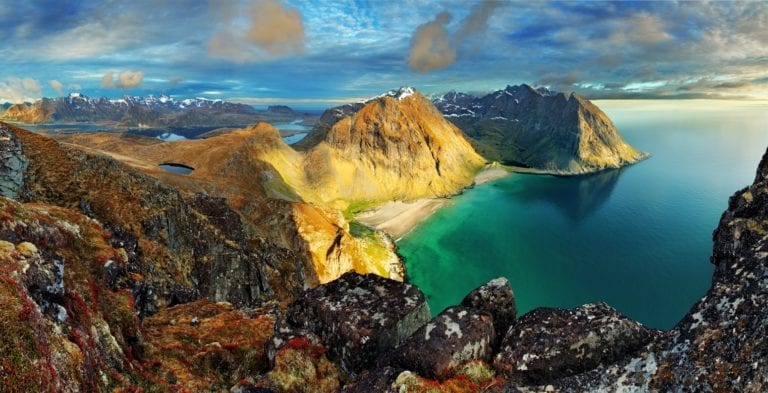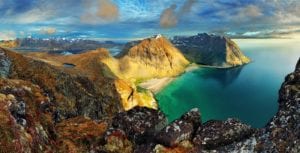 GO HIKING
The Lofoten islands provide an epic playground for hiking enthusiasts. Because of this, there is no shortage of available trails for all levels of fitness. Many of the hikes offer magnificent and dramatic views of mountain peaks and the North Sea and range from easy beach walks to challenging climbs in the back-country. The Norwegian Trekking Association (DNT) offers maps that can be purchased through the DNT or locally in Norway. Guided hikes are also available and offer an informative way to explore the natural landscape. Weather in Norway, as always, is unpredictable so be sure to pack layers and keep a close eye on ever shifting weather conditions.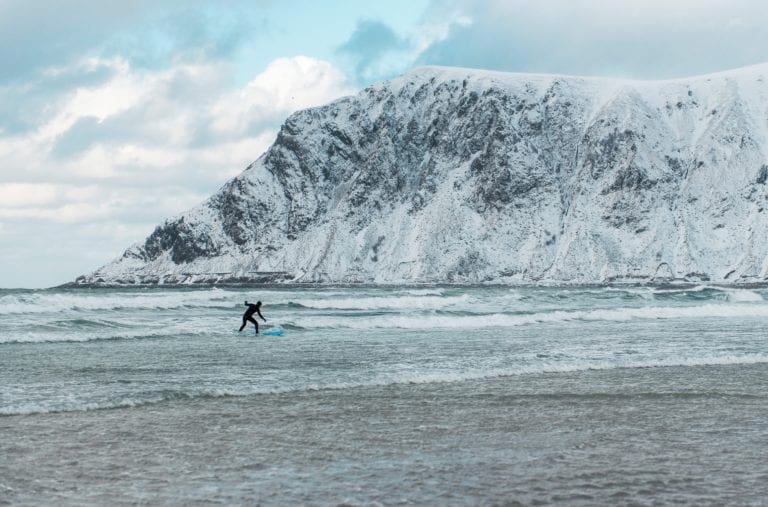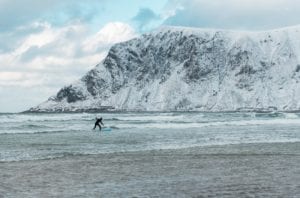 GO SURFING
Lofoten has become a hot spot for extreme surfing. And the epicenter of it all is Unstad, a town located on the far side of the island of Vestvågøy, part of the Lofoten island chain. With 15 permanent residents this remote village is surrounded by open sea, steep mountains, and a surfing spirit all its own.
There have been surfers in Unstad Bay since 1963. Thor Frantzen and Hans Egil Krane were the first surfers in Norway. Having been exposed to surfing culture while in Sydney, Australia, they took what they saw back home to Lofoten and began to craft their own surfboards. The surf band, The Beach Boys, were at the top of the charts at the time, and they used the surfboard on the album cover as a reference point to craft their homemade boards. In the 90's there was a resurgence of interest in surfing at Unstad.  During this period most of the surfing in Norway was south in the Stavanger area. Kristian Breivik went to Stavanger and spread word of the fantastic waves north of the Arctic Circle. He convinced a group of surfers, and Surfing magazine, to travel up to Lofoten where they were able to surf monster waves. Slowly the community developed here and in 2003, a surfing resort and school was established, Unstad Arctic Surf.
We recommend heading over to Unstad to rent a board, get some coaching, or just marvel at the athletes as they surf in the cold waters north of the arctic circle. Truly a unique experience!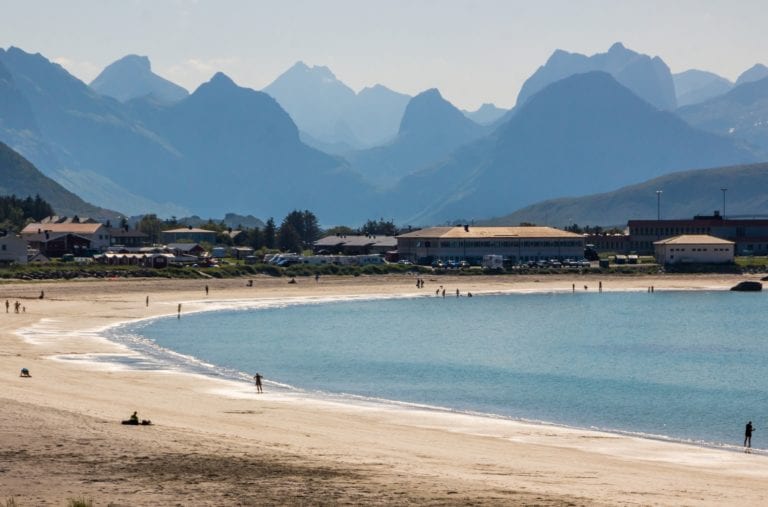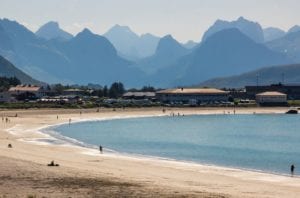 GO TO THE BEACH
In spite of (or perhaps because of) it's arctic location, Lofoten is home to some of the most beautiful beaches in the world. Imagine long stretches of sandy beaches, crystal blue waters, and dramatic jagged mountain peaks. In our opinion, Lofoten's beaches provide the perfect backdrop to fully embrace the Norwegian summer experience: grilling, camping, and simply getting out into nature. Rent a kayak and paddle in the beautiful water under the midnight sun, grab a typical Norwegian engangsgrill (one use grill) from any local market and grill up some fresh fish, pitch your tent (pretty much anywhere) and camp in this epic landscape. It is sure to be a trip like no other.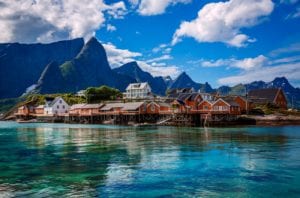 EXPLORE THE SMALL TOWNS AND FISHING VILLAGES
If discovering local culture is your thing, there are plenty of small towns and fishing villages for you to explore: stop for lunch, shop for dried fish and local souvenirs, and take photographs. While driving around you're sure to notice red cabins dotting the landscape. Lofoten is known for these old fisherman's cabins called, rorbuer. These cabins have been restored and turned into modern and charming accommodations for travelers. Supported by stilts, these cabins perch over the water and offer great views of the landscape.
If Viking history interests you, we recommend heading over to the Lofotr Viking Museum in Borg. This museum features the largest Viking-era house ever found. The mighty 83m structure is reconstructed in its full splendor, just off the original site. The Lofotr Viking Museum also has a living museum where you can partake in a Viking party including: singing, dancing, and (of course) a feast!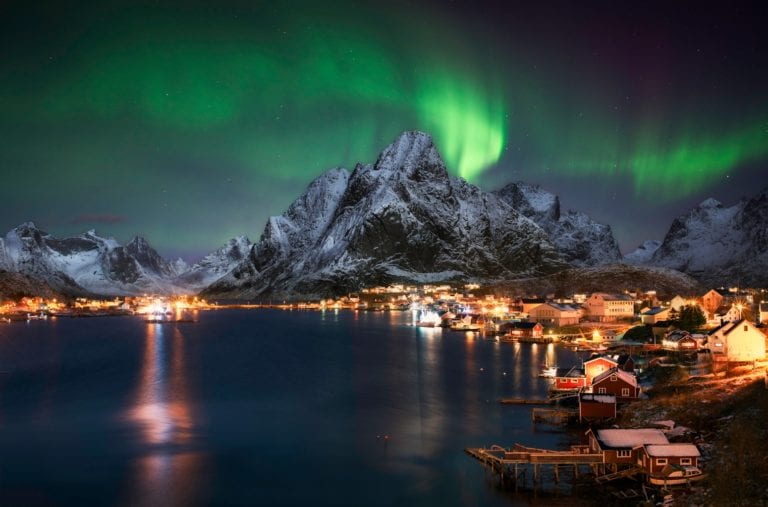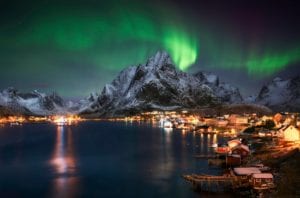 SEE THE NORTHERN LIGHTS
No guide to Lofoten would be complete without mentioning the spectacular northern lights. The magical aurora borealis, or northern lights, occurs when charged particles of the sun become trapped in the Earth's magnetic field. The result is a beautifully colorful display of dancing lights in the night sky. Lofoten is an extremely popular location to see this phenomenon.  Plan your trip between September to April, if you're goal is to try and catch a glimpse of this pigmented wonder.
When it comes to natural beauty, Lofoten is one of the top destinations in the world. We hope that this glimpse into this paradise of the north has inspired you to come and travel Lofoten for yourself.